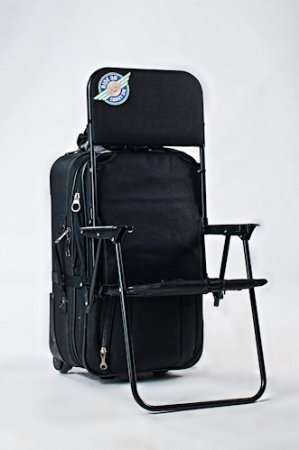 6 Parenting Products to Make Life Easier
If you're looking for more great products as an on the go parent, allow us to help you out. Last week we posted 5 Great Buys for On the Go Parents and this week we have 6 more, some of which are for the on the fly parents!
The first product is great for kids that are getting old enough to wheel around their own luggage, but aren't quite old enough to be patient and stand still in line. This Ride-on Carry-on piece of luggage has a fold out chair for little ones attached to the back of it to make navigating airports much less of a headache.
If you're little one isn;t quite at luggage carrying age, then convert your car seat into an airport stroller with the BRICA Roll n' Go Car Seat Transporter. This product allows easy transport of both your car seat and baby through the airport.
If your baby is still an infant and you're taking them on the plane, try out the Flyebaby. This hammock-like device allows your baby to lay in your lap during the flight and also promotes face-to-face interaction. Attach the straps around your waist and hook the other end into the tray table and you're good to go!
If you need a highchair that can go anywhere, look no further. Heaven's Bliss Portable Chair can fit in a tiny bag but can turn any type of chair into a highchair with full supporter for your little one! You can have it with you at all times and it is machine washable for easy cleaning.
Next up is this "Hungry Mat" Pink Pig dinnerware set. It has a simple, but cute, design that encourages kids to "eat like an animal" and would be great on a plane, in a car, at home or in a restaurant.
If you're tired of flying and driving all over the place and decide to stay in for the evening, this Baby Food Storage Freezer Tray is a perfect addition to your home. Make the baby food ahead of time and freeze it in the tray, then simply take it out and warm it up whenever you're ready to feed the little tot. Everything you need comes in this package, freezing tray, warming bowl and even spoons!
All of these items will make your life a little easier when you're on the go. But remember, if you want dinner to be easier, just use our Eat Kid Friendly App to find the nearest kid friendly restaurant to you!